Microdermabrasion
The Perfect Skin care clinics are commonly used by our clients who have reached the stage at which the natural processes of skin renewal and exfoliation are beginning to slow.
Microdermabrasion is a medical procedure sometimes named as micro-resurfacing, and is suitable for many skin issues, including: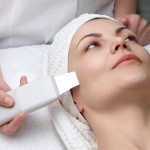 Sun Damage
Fine Lines & Wrinkles
Skin pigmentation
Stretch Marks
Acne Scarring
Blackheads
Open Pores
Particularly Oily or Dry Skin
This treatment is an affordable way to buff away the top layer of facial skin and take away the dead skin cells. Microdermabrasion uses micro crystals and helps the skin to regenerate, and is not as invasive as procedures such as chemical peels or laser therapy.
The instantly visible results after this fast, pain free, procedure include smoothing of the skin, a better adapted skin that can absorb anti-ageing creams, and it can prevent further fine lines caused by the ageing process.
Whilst I realise non-surgical procedures are very appealing, I aim to talk to you in depth to choose the best method and technique that suits you and your skin type.