Emma Brook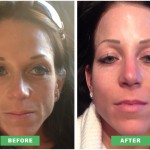 We often associate volume loss and sagging to the face in older people.
However other factors such as weight loss, extreme dieting and exercising, running often or otherwise known as 'joggers jowl!, stress or illness such as malaria can all cause this sunken look to the face.
Above is a photo of Emma Brook who is an amazing fitness model and one of my clients, due to her extreme body fat loss for competitions she looses her cheek definition and temple volume which can make her look tired.
An important part of her competitions means that facially she also has to look good, so I have devised a volumising program using Sculptra and muscle relaxing injections, last year after only 7 months after training she won in Miami and gained her Miami pro card, she will be competing in Las Vegas in August. Well done Emma x
"I first started having sessions with Frances in 2011 and I was so pleased with the results. I am a Pro Fitness Model and training for fitness competitions I find that I go from 15% body fat to 4%. Losing this much weight makes my face look very gaunt and during this time I need to look my best because of photo shoots on stage and my main judging criteria is to look healthy but lean. I was very conscious about my appearance and coming up to my first competition I was nervous that I wouldn't look good enough on stage. I remembered that I had been lucky enough to meet Frances in CACI clinic in Hornchurch for my wedding, so I knew that she would be the only one that could give me the best advice and the best options for me! She always explains the different options thoroughly and does the job to perfection!
I have competed in a number of competitions and I placed 1st in my first competition, 2nd in my second and 1st in my third competition and it was this competition with the WBFF a professional Federation where I took my Pro Card and this year I will be competing for the world title in Las Vegas and I will be again having sessions with Frances all the way up to my competition to make sure my face stays looking fresh and smooth! Frances I can't thank you enough for all your help and support I really couldn't recommend you enough."
Emma Jane Brook, WBFF Pro Fitness Model