Terrie
Unfortunately I inherited my father's Mouth, and if I wasn't smiling, I looked miserable or very sad. To add to my sad looking expression my Top lip was quite thin. I had thought about having something to improve my sad face for sometime. Frances came highly recommended from by Mum's Beauty Salon Tessa Stevens Winchmore hill , this gave me the confidence to book an appointment. My consultation with Frances, put me completely at ease, she knows her stuff and understands what you want from a treatment.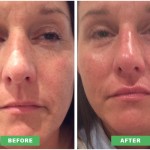 I had my treatment straight after my consultation, it was quick and painless and I immediately knew it was one of my best decisions. When you have a miserable expression it can make you feel miserable..After my treatment I feel my face has a softer look and I look how I feel, smiley and happy.
Extremely HAPPY with the natural look, and have been asked if " I've been on holiday" and that " I look really well". Nobody can quite put their finger on what is different about me.
I feel so pleased with the result, I cant put into words what it has none for my confidence. Thank you Frances for my happy expression.