Angela (Treatment 2)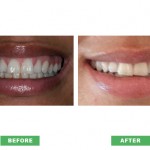 I was always very nervous about having Botox or any kind of treatment to my face or even body for that matter until I met Frances Furlong of Perfect Skin. I've never been a girlie girl and lots of my friends were always put off by anything that involved needles, chemicals or intensive regular treatments.
I never thought I had a problem, but there were a couple of things that I would have liked to improve, but then I guess I'm like most people naturally.
I was always big on laughter and always liked to smile for the camera on nights out, but the more I looked through my photo collection the more I realised there was just one tiny little thing that needed adjusting, my gummy smile!
When I smiled my dad would say to me "the last time I saw a set of teeth like that it won the Derby!"  Meaning he could overly see my gums when I smiled. When meeting Frances she firstly made me complete a comprehensive medical history form. She then explained to me how Botox could help with this problem. To her horror I said no, however Frances explained how it worked, how we would take the treatment slowly over a couple of weeks, and how it would feel and the results that could be achieved. I immediately felt reassured.
You hear stories of women having frozen faces and looking terrible after treatments, but Frances carefully explained the mechanics of the treatment. I was amazed the treatment didn't hurt and the results are fabulous and I would highly recommend anyone to Frances. Talk to Perfect Skin and you will get an honest and frank opinion and see how you feel.
I am feeling much better about my smile as you can see from my photos it has really helped my problem. I am so happy I have now trusted Frances to help me with my skin and advice on the right products to use. Watch this space as I will be reporting on this too, Perfect Skin, well the results are just perfect.