Sarah, Essex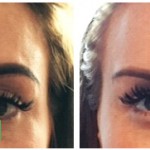 I had no idea how uneven my eyebrows where until I saw a photo of myself on a night out! Although I have my eyebrows regularly shaped and tinted no one has ever mentioned it to me. My first thought was to have them corrected by considering semi permanent make up.
I went for a consultation and was told that this could make them look worse. I was recommended to see Frances Furlong of Perfect Skin to see if she could suggest anything to help.
I had a very informative and professional in-depth consultation that resulted in me having muscle relaxing injections to stop my eyebrow from pulling up too much.
Within 4 days my eyebrows were even and my face looked more balanced.