Laser Light Treatment
Laser and intense pulsed light treatment is one of the cosmetic skin treatments that can really boost confidence and enhance the way you look and feel.
Treating pigmentation issues all over the body, it has proven to be a truly popular way of achieving real visible results.
For treatment of broken veins and reduction of hair growth, the intense pulsed light procedure can be used on the face, under arms, legs and arms and can include effective removal of hair in those areas.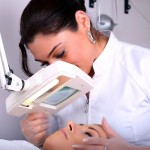 A very simple non-surgical practice that provides outstanding results, the laser and intense pulsed light treatment can be used once or booked as a course over a couple of weeks.
I work hard to be as clear as possible, discussing with you the results that you can expect. And will talk to you about what to do if you are not happy with the results.