Derma Roller
Commonly requested by our clients, Derma Roller (or skin needling) is a non-surgical treatment used at our skin care clinics to stimulate skin to regenerate itself. Derma Roller can be used to repair skin that has been damaged by the sun, scarred by acne, or simply has been affected by the ageing process. The appearance of fine lines and wrinkles can be improved upon, by using the Derma Roller which has micro-needles to penetrate into the top layer of skin.
An anaesthetic will be applied, to improve the comfort of our client's skin whilst receiving the therapy. A course of the Derma Roller will enhance the natural beauty of the skin by making it brighter, smoother and younger looking. It will improve the appearance of fine lines, wrinkles, pigmentation, sun damaged skin and open pores.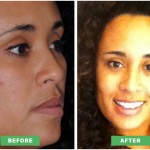 After around six weeks of the first treatment, results will become visible with lightly scarred or damaged skin looking healthier.
Compared to other types of rejuvenation treatments, the Derma Roller is ideal for clients looking to spend time improving their facial skin tone to achieve a long lasting result, and for clients that want minimal downtime.
A course of 3 treatments is recommended for skin rejuvenation. This treatment can also be used to treat stretch marks and cellulite. I work hard to ensure our clients are making the best choice possible, and that we outline potential side effects or complications before any procedure goes ahead – keeping you safe and in professional hands.