Danielle
As a young woman having dark circles and rings around my eyes was a big problem for me. Unfortunately I had inherited it from my parents, I felt it made me look tired and older than I actually was!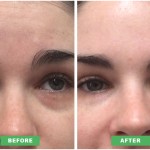 I have spent a fortune since my early teens on eye creams and tons of industrial strength concealer , but nothing really helped. I had heard that dermal fillers could improve this area naturally. I had lots of concerns about the treatment and more importantly who could I trust.
I was introduced to Frances by a friend.
After my In-depth consultation, and time to digest all the information I decided to go for it- I am so happy with my results, the after care and the comments I get from others saying how well I look , I wish I had done this ages ago, it has changed my life and my confidence.