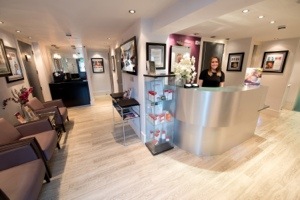 Frances has worked at Smile Design by Ash for three years since we set up the practice. Many people have benefited from the collaboration of having an attractive, natural smile that suits their face with younger, healthier looking skin.
These three people have had life changing treatments from both Ash and Frances… from skin peels to gum cleaning and cosmetic dentistry; all have benefited from the amazing work done by the Team.
"Frances is a very talented person. She is highly professional and offers people excellent advice on improving their appearance. I am proud to have her work at Smile Design By Ash, so that clients can benefit from her extensive range of services."
Ash Parmar
Principal dentist, Smile Design By Ash
For any Perfect Skin clients, we offer a FREE initial consultation worth £125. This includes:
• A large scanning X–ray (to evaluate the mouth)
• Digital photographs (to review the dental condition & smile)
• A cosmetic and health consultation with Dr Ash Parmar
Please visit our informative website at www.smiledesignbyash.co.uk and contact us on 020 85000544 to schedule this appointment quoting PerfectSkin125.